Things to consider before buying a mattress
The average lifespan of a mattress is between 7 to 10 years, and we spend thousands of hours on our mattresses. There's more to purchasing a new mattress than many people realize. We spend up to one-third of our life sleeping on it, so we should really think about what we're bringing into our bedroom. There are many types of mattresses available on the market, and it can be difficult to decide which one is right for you. Being sure to have the best quality mattress possible is the key to a successful buying experience. A huge number of variables need to be considered when purchasing a mattress.
This guide will help you compare and sort through your options when considering what kind of mattress to buy.
Our goal is to help you get the most for your money, while getting the best mattress possible. Read on to see the mattress buying guide!
Types of Mattresses Mattress Buying Guide
Bed in a box – These are popular online mattresses that come compressed and vacuum-packed, making them easy to ship to your home. Often these mattresses use more eco-friendly materials like memory foam or latex for cushioning.
Innerspring – This type of mattress has metal coils (often hundreds to thousands) that provide the main source of support. Traditional innerspring mattresses are made to fit in a metal frame, but furniture style beds can be purchased with the mattress already inside.
Hybrid – A hybrid mattress combines both memory foam and coils for cushioning.
Memory Foam – This type of material is popular because it will conform to your body's shape, providing comfort and support without using springs or many layers of cushioning.
Latex foam – Made from rubber trees, this type of material offers extreme comfort and support without chemicals or other additives. They are more eco-friendly than memory foam mattresses . However, they won't conform to your body quite as well.
Waterbeds – This style of mattress uses water for the main source of support. They are still popular in some parts of the world.
There are some simple steps you can take when buying a new mattress to make sure that you get something durable and comfortable.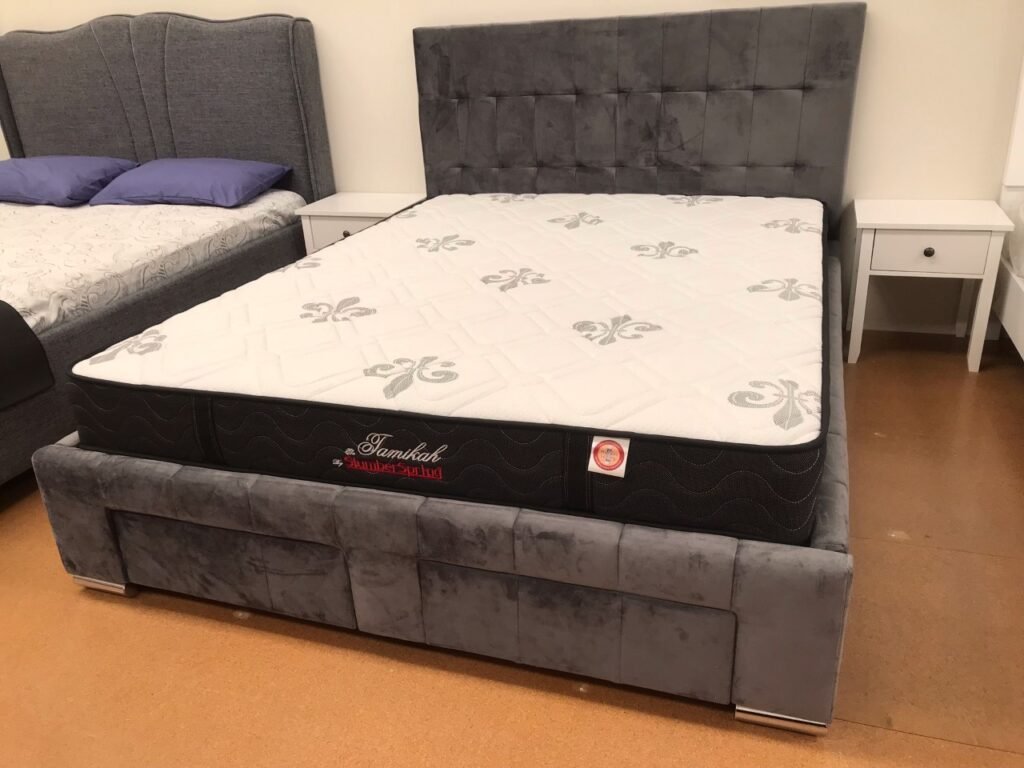 Know what you want
First, it's important to know what kind of mattress will suit your sleeping style. The materials used in different types of mattresses are designed for different purposes, so only generalities can be made when recommending certain kinds of beds based on personal preferences . Memory foam mattresses are popular because they conform well to one's body, reducing pressure points and providing support. Latex foam mattresses offer good support without using chemicals or other toxins in the materials. Waterbeds and airbeds are also suggested for those who don't like firm mattresses .
If you're planning on buying a new mattress, it's best to test out the different comfort levels at a store.
Measure the Size
Mattresses vary in sizes, and you should find one that is appropriate for your body length. It's important to take your height and weight into consideration, as well as how you sleep. For example, side-sleepers will need more cushioning than back-sleepers .
Mattress Buying Guide Mattress Sizes:
Twin (39″ x 75″) – This is a smaller size bed suitable for children or for use as a day bed.
Full (54″ x 75″) – About two feet longer than a twin and is often the most popular size for couples.
Queen (60″ x 80″) – A queen is wide enough to comfortably fit two people, and it's about six inches longer than a full.
King (76″ x 80″)/Cal King (72″ x 84″) – The extra length on these beds allows them to fit taller people. They are also good for couples who have different needs in bed, such as one partner who tends to sleep mainly on their back and the other prefers sleeping on their side.
Budget
Also, be sure to get the right combination of budget and functionality when buying your mattress. Memory foam mattresses are more expensive but will last longer than innerspring beds, which will need to be replaced after about ten years. It can help to set a budget before shopping
Know your warranty
Finally, check the warranty and return policy and make sure that it is adequate for your needs. If the mattress you want has a good warranty but a short period of time to change your mind, consider purchasing from another store. Be proactive about the return process so that you can receive a refund or replacement if necessary.